Here I am going to give you the 5 Best Effective Ways To Honour Your Mother! Tips & Meaningful Gifts For Mom!
Mother is the most important person in our life. She does everything for us. She is always there for us. We are happy with her, we cry with her and also we fight with her. But we love her very much. She is the one who brings us into this world. She takes care of us from the time we are in her womb. After our birth she does everything for us, she teaches us how to speak, how to walk, and how to eat. We learn many things by watching her and trying to copy the way she speaks, walks, or eats.
We learn many things from our mother and it helps us in our whole life. When we are sick she cares for us like a small child, when we are weak she encourages us like a friend and when we commit mistakes she corrects us like a teacher.
Mother is not only ours but also of all human beings because she is the only one who gives birth to children who make this world beautiful. She loves all of us equally even though we are good or bad, rich or poor, strong or weak because for a mother all are the same and have equal importance in her eyes.
As children, we bring happiness and joy to our mothers. We are always curious and we bring that happiness to our mothers when we learn new things. As we grow older, the relationship between mother and child changes, but love remains constant.
But all said and done, SHE IS OUR MOTHER AND WE LOVE HER UNCONDITIONALLY!
That's why we are here today discussing ways to honor your mother!
Have You Known About "Honour"?
In the book "Tuesdays with Morrie" Morrie gives us a lesson on "Honour one's people" which is different from respect. He said, "Respect is an appreciation of the separateness of the other person, of the ways in which he or she is unique. But when you honor someone, you recognize that he or she has something special to offer you–something that will add to your life, some part of themselves they are willing to give you."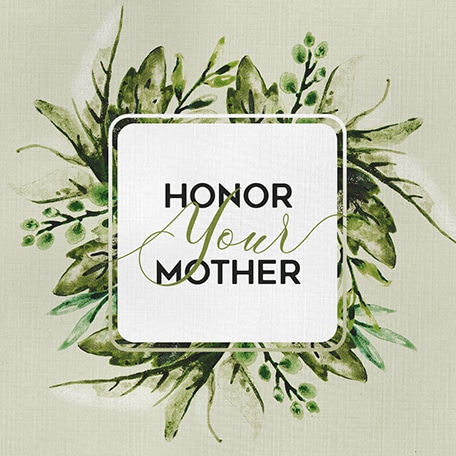 Mother is the person who has a great contribution to our life, so the feelings from our hearts should be an honor, not just respect!
5 Effective And Affordable Ways To Show Your Honour To Your Mother!
1. Treating Her to A Special Meal
In honor of Mother's Day, take your mom out for a meal. It will give you a great opportunity to show your appreciation for her and to tell her how much you love her. Make sure that you choose a restaurant that is quiet enough to allow you to chat without having to shout over the background noise. Of course, your mom knows that you love her but it will be nice for her to be reminded of this while you are sharing a special meal with her. This will be even more meaningful if you tell her that she deserves all the best things in life because she has done so much for you. If there are any sensitive issues between the two of you, Mother's Day is an ideal time for discussing them. You can bring up things that have bothered you in the past or talk about something that is currently bothering you. However, don't use the day as an excuse to air grievances, but instead, look at it as an opportunity to clear up misunderstandings between the two of you or as a chance for forgiveness and healing.
2. Helping Your Mother With The Housework
Helping your mother with the housework is one way to show your love and respect for her. If you are in a situation where you are able to help, it is important that you do everything you can to make sure that she has less work and less stress in her life. Helping your mother with the housework benefits all members of the family. When your mother does not have to spend as much time doing household chores, she will be able to spend more time playing games or reading stories with the younger children. This can help their education and give them a better family environment in which to grow up. Helping your mother with the housework is also helpful for fathers, who have to work very hard and maybe away from home for long periods. When they come home they often want to relax, but they will not be able to relax if they see that there is still much work leftover from the day. Finally, helping your mother with the housework is good for you as well! Doing household chores can teach you important skills that you will use throughout your life, including teamwork and communication. Additionally, these skills can help you get a job when you are older!
3. Watching Movies Together
Movies are one of the best ways to enjoy quality time with your mother. It is a great way to bond and get to know each other better, especially if you are not around her most of the time. Here are some reasons why you should watch movies together with your mom: It allows you to catch up on one another's lives. If you are living away from home, then this is your chance to know more about what's happening in your mom's life. She will appreciate that you also took the time to share with her what has been going on with you. It is a great bonding moment with no strings attached. Mothers need an occasional break from all their daily responsibilities, so this movie date will provide a nice change of pace for her. You might be surprised at how much she can loosen up and just have fun! You can get to know more about each other's interests and hobbies. You'll be amazed at how many things you have in common because of your shared love for movies and TV shows. Let her recommend her favorite movies or shows and maybe you can both watch them together next time. You may also find a new favorite from her recommendations!
4. Doing Morning Exercises Together
Well, there are many benefits to this. First of all, when you do morning exercises, you won't feel sleepy throughout the day. You will be motivated and feel energetic to do your household work. Secondly, doing morning exercises together will strengthen the bond between you and your mother. In this way, you can spend more time with your mother and take care of her health as well. Because of your busy schedule, it may not be possible for you to give some time to exercise in the evening. But you can do so in the morning before you go to work. So start doing morning exercises with your mother today!
5. Surprising Her With Meaningful Gifts For Mom
Some of the best things in life are free. A hug or a kiss, a walk on the beach, and a hot shower are all some of life's little luxuries that cost nothing but can mean everything to us. Although we don't always appreciate these gifts because they're free, there is one person who has been silently giving us these "freebies" for years.
Mothers are selfless beings who make great sacrifices for their children. They are the first ones to wake up in the middle of the night to calm a crying baby, the first ones to prepare breakfast before everyone else wakes up, and the last ones to go to bed after making sure that everyone's needs have been met. As if all these duties aren't enough, mothers also act as cooks, teachers, nurses, therapists, and even taxi drivers on top of working full-time jobs!
This Mother's Day weekend, show your appreciation by surprising her with meaningful gifts for mom. Being thoughtful doesn't require you to spend a fortune — just remember that it's not about how much money you spend but how much heart you put into it.
Wonder what are gift ideas for mom? Don't worry, we've got you covered!
Top 5 Best Meaningful Gifts For Mom!
#1. Personalized Gift For Mom, You Are The Most Wonderful Mentor And Best Friend, I Will Always Be Your Little Girl And You Will Always Be My Mom, Mom Blanket
The women in your life are strong, smart, and always on the go. Make sure they're getting the rest they need to keep up that impressive pace with personalized blankets. She'll love being able to relax at the end of her day in a blanket with a personal touch, whether it features an inspiring message or a fun photo.
Personalized Gift For Mom, You Are The Most Wonderful Mentor And Best Friend, I Will Always Be Your Little Girl And You Will Always Be My Mom, Mom Blanket
Do you wish to express your feelings for your mother? While feeling the warmth of this, show your love and gratitude on a daily basis. You Are The Most Wonderful Mentor And Best Friend Personalized Blanket, nicely personalized with the special names you want to remember and cherish. This opulently soft photo blanket will quickly become their favorite and perfect gift for moms.
This is the nicest present a daughter can give to her mother. We adore our mothers, and we know they adore us more than they do themselves. On Mother's Day, give your mum a gorgeous, toasty blanket that she can snuggle with while remembering you and reading this unique quote.
#2.

Plant Mom Mug
What better way to honor your mother than with a special mug as a gift for your mother. Every time she drinks her tea, she will be reminded of how much you love her.
The perfect Mother's Day present is a gift that shows you care about your mother and love her without reservation. It's a gift that makes her feel appreciated and cherished rather than an obligatory present. Mother's Day is the perfect time to show your mom just how important she is to you. A great way to do this is by giving her cute mothers day ideas that express your gratitude for all she does. A nice cup of tea can help any mother relax, so get her one in a mug that shows her just how much you love and appreciate her.
#3. Personalized Gift For Mom, I Owe To You The Greatest Woman In My Life, In A World Full Of Roses You Are A Sunflower Portrait Canvas
Canvases are a great way to display your favorite family photos and make the best gifts for mom on Mother's Day, Father's Day, birthdays, and more. Customize them with text or a favorite photo. If you want to give your mom the best present ever this year, check out this unique canvas that will show her just how much she means to you.
Personalized Gift For Mom, I Owe To You The Greatest Woman In My Life, In A World Full Of Roses You Are A Sunflower Portrait Canvas
Can't find the right words to tell your mother how much she means to you? Can't think of a Mother's Day gift that will show her how much you appreciate everything she does for you? We have the solution.
This To My Mom, I Owe To You The Greatest Woman In My Life Portrait Canvas is the best gift for a mom to show your mom how much you love and appreciate her without having to say anything. It's personalized with your name, so there's no misunderstanding about who sent it.
It will serve as a continual reminder of everything she does for you and how much you appreciate her. We hand-stretch our canvases over solid wood frames so they're robust, lightweight, and ready to hang as soon as they come.
#4. A Double Name Ring Personalized Gift For Mom
The double name ring is one of the most popular personalized rings. It's a great gift idea if you are looking for a personalized gift for mom. This is a simple and understated piece that can be customized in a variety of ways. Mom can wear this ring every day as a reminder of how much you care about her.
There are so many ways to personalize your double name ring that we couldn't possibly list them all here! The two names on this ring create an infinity symbol, a universal sign of love and friendship. You can even get your birthstones on the ring as well, making it a truly unique gift for mom that she won't soon forget.
#5. "I Know It's Not Easy To Raise A Child, To Nurse Mom" Personalized Poster
The best gifts are the ones that are personalized and remind the person receiving the gift of their family. Here is a wonderful, heartfelt gift for your mom:
A personalized poster with a quote about how much you love and appreciate her. You can personalize the color of the background, add in your name, and have it framed so it looks gorgeous on any wall. This is a gift that she'll treasure forever!
I Know It's Not Easy To Raise A Child, To Nurse Mom Personalized Poster
This personalized poster will act as a reminder of what matters most: your beautiful baby growing in front of your eyes. Just hang it on the wall above your favorite chair where you tend to nurse and you'll be reminded every time you see it that there's nothing better than being a mom. This poster is a unique gift for mom. It helps them remember just how hard their job is, but also how much they're doing it for the sake of their child. The beauty of this personalized poster is the heartfelt message, which can be customized to your liking.
Wrapping Up!
So, how do you know how to show love to your mother? Remember that she is the only person who has seen you grow up, the one who made sure you were fed, clothed, and properly taken care of. Treat her with the utmost respect; value her contribution to making you what you are today. And most importantly, honor her as a mother on Mother's Day!
In case you want to know more about some unique gifts for mom, visit our website https://highlyunique.com! Happy shopping!