Here are some suggestions for DIY Mothers Day Cards that everyone can do it easily at home. If you can't go to the shop to buy the ideal Mother's Day card, you may make your own using the designs below as inspiration. So, if you're wondering how to design a Mother's Day card.  A homemade Mother's Day card filled with sentiment and sweetness is enough to make any mum feel all warm and fussy inside. 
11 DIY Mother's Day Card Gifts That Make Her Touching
#1: Say it with Washi Tape
Washi Tape Mothers Day Card Tutorial
This beautiful mother's day card can be personalized in so many ways. For example, you can put the name of your loved one and you can even remove the phrases "warmest wishes for", "with love", and "to my amazing". You just need to leave a message about what you want to say. This card is really dimensional that's why it's truly eye-catching. Also, every word inside of this card is made with washi tapes which are very colorful that's why it looks beautiful.
#2. Make an origami letter of love
Mothers are very special ladies in our lives. They take care of us and make us feel loved. The best way to show them how much they mean is by sending them a handmade letter of love, that they can keep with them all the time. The origami letter will definitely speak volumes. Customize the message inside to say whatever you'd like. With this small, handwritten letter of love, you can create a truly unique Mother's Day present that you both can treasure forever.
#3: Pretty pop-up 
Celebrate Mother's Day with the perfect gift. Express your appreciation for all that she does with a unique artistic interactive card. popup cards are perfect for Birthdays, Christmas, and any other day you want to say, "I'd like to show you how much I appreciate everything you've done for me!". This is the best way to say "thank you" on Mother's Day. She will open the card, and the gift will befall to the floor! Very simple gift idea at the minimum of expenses!
#5: Mum And Baby Bear Card
What's cuter than a baby bear!? This adorable DIY Mothers day card features a mom and baby bear right smack in the middle of your 2-part note. Plus, there's plenty of room for you to add any personal message you want. You love your mom just as much as that bear loves his on this card – so give her, ahem, brownie points all around! She will love it, I promise (I hope)! Let Madincrafts show you how to do this Mum And Baby Bear Card
#6: Brew-tiful cards for Mother's Day
You want to give Mom super special card ideas for mother's day this year, but you don't know what. She already has everything. Do you know what she doesn't have? A deck of custom playing cards just for her. Cards that aren't just attractive, they're educational too. For those who make homebrewed beer, wine, and other beverages, these playing cards are especially great. Every mother has played a role in someone's life. A mother can be your dog, a friend, your favorite teacher, or even your lover. Tell them that you appreciate the work they do for the people around them. Most of all have a great day! Click here on how to do Brew-tiful cards for Mother's Day.
#7: Happy Mother's Day Basic Card
Mom deserves to be spoiled on Mother's Day, but sometimes you're low on cash or just don't have time to take Mom out for an expensive brunch. To avoid feeling guilty about not doing enough for Mom, you can make her a card. This card is easy enough to assemble in minutes and still be a great mother's day gift. Otherwise, did you know that we send over 90% of our cards via email? It's true, and we can thank the low cost and ease of use for giving us the means to send cards that are just as beautiful as traditional mail. If you haven't used this technology before, it takes only a few steps to get your own card started.
#8: Greenery Card
If Mom's favorite pastime is collecting plants and other greenery, consider creating her a lovely watercolor card! Simply fold a thick piece of cardstock in half, then using green watercolors, paint on branches and succulents. Creating a charming hand-made card for your dear mother is a perfect way to show your love and appreciation. As Mother's day is approaching, we introduce you to creative ideas for creating a green greeting card this time.
#9:  Spring Photo Frame Card
Spring is always a special time of the year. Trees are budding, flowers are blooming, and lambs are frolicking — or something like that. We think it's a great time to make this custom photo frame card as Mother's day greetings. Fold a piece of thick card stock in half, then cut out an opening to fit a photograph. Then, decorate around the opening and then hot glue the photo on the corners. Mother's Day is fast approaching, so I've got just the card you need to send your Mom a little love and appreciation to show her how much she means to you.
#10: I Cannot Contain My Love For You Card
SHOP NOW
A few days ago I had to buy a mother's day card and I was shocked at the low quality of creativity that is on the market these days. I'm a designer, so I take my card-giving very seriously. It should be a reflection of my feelings for my mom! So we instruct you to make this card for all you designers out there who are looking for a last-minute mother's day card and want to do something special for your mom. Draw or trace a Mason jar on a folded piece of construction paper. Then, glue heart confetti coming out of the jar. Finally, complete the card with a sweet saying underneath.
#11: Mom, You're TEA-rrific! Card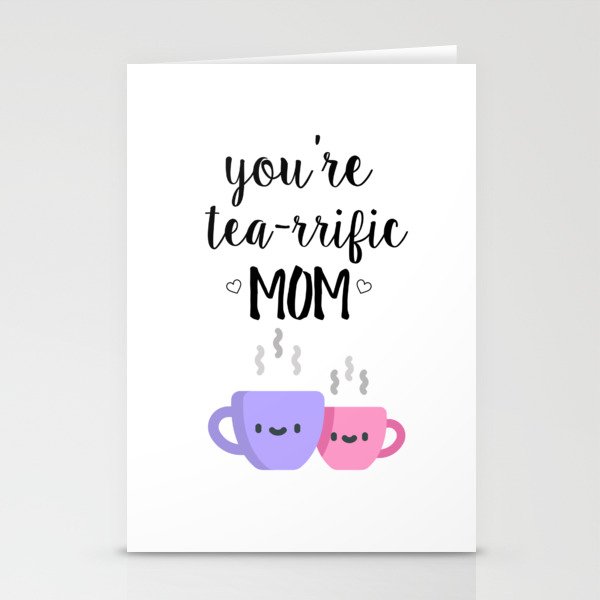 One mother's day, I wanted to get mother's day gift cards but didn't know what to get. So finally I found a Mom, You're TEA-rrific! Card. Thanks for all the details and descriptions of the product. Mom, You're TEA-rrific! The card is one of the amazing mother's day cards that anyone can buy from the internet or local shop. I hope you will enjoy your gift as well. If you want to make it on your own let's draw, color, and cut out a teacup shape and glue it to a piece of folded construction paper. Make steam from bits of cotton balls.
Upgrade Your DIY Mother's Day Card Ideas With Personalized Presents Containing Meaningful Messages From HighlyUnique
#1. To My Mom Personalized Portrait Poster, In My Life I've Love Them All To The World You May Be Just A Mother
Didn't know how much your mother means to you in the right way? To show your mom how much you love and appreciate everything she does for you, give her this gift. We have the answer. This To My Mom Personalized Portrait Poster, In My Life I've Love Them All To The World You May Be Just A Mother is a good present for Mother's Day.
As a reminder of how much you love and appreciate her, it will be a good thing to keep on hand. As soon as they arrive, we hand-stretch each canvas over a solid wood frame. This makes them strong, lightweight, and ready to hang right away.
#2: To My Mom, I Can Pay You Back, You Are Appreciated My Loving Mother I Love You Portrait Canvas
The best-personalized gifts for Mother's Day from the son reflect how much she is adored, valued, and inspires us, and they are thoughtful and thoughtful. With this spectacular new personalized item, you can mix the canvas splendor of everlasting love with the personalized style of your own two hands. It's the perfect birthday gift for mothers from boys, a unique Christmas gift idea for mother and son, or just a Mother's Day gift idea.
#3: Mom Queen Wife Personalized Mug, Kinda Sweet Kinda Savage, Gifts For Mom
Mom Queen Wife Personalized Mug, Kinda Sweet Kinda Savage, Gifts For Mom
This Black Mom Nutrition Facts Personalized Mug is the perfect cool Mothers day gift. This high-quality gloss black mug features special nutrition facts about black queen power to add value and interest to her new favorite mug. It's the best mom's day gift for a birthday, anniversary, mother's day, or any occasion that you want to show how much you love and appreciate your mom.
#4: Personalized Necklace To My Mother, You Mean The World To Me, Meaningful Gift To Mom
Personalized Necklace To My Mother, You Mean The World To Me, Meaningful Gift To Mom
This Personalized Necklace To My Mother, You Mean The World To Me, Meaningful Gift To Mom Necklace is a great way to show your mom how much you care. Whether it's for Mother's Day, birthdays, or any other special event, these are sentimental gifts for mom to give. It should be given to a mother who makes you feel loved, supported, and encouraged every day.
#5: Personalized Gift For Mom, For All The Times You Brushed My Hair, And Put Me First Instead Just A Mother But To Me You Are The World, Mom Blanket
A customized blanket is an ideal method to express your feelings for her and let her know how much you value her. Even on Mother's Day, you should express your appreciation to your mother for everything she has done for you, as she deserves it on a daily basis. With its one-of-a-kind appearance and functionality, this Mother's day present idea will surely impress your mother.
In Conclusion
We hope we helped make Mother's Day a little easier for you this year. If you're still having trouble, maybe a hand-drawn card will do the trick. Whoever your mother is, we hope she has a wonderful day!
In case you want to know more about Personalized Presents, HighlyUnique will always be cheerful!